Meet your team of Gold Coast Physiotherapists. Whatever your passion (or passions!), they'll provide the support and guidance you need to get back to enjoying them again.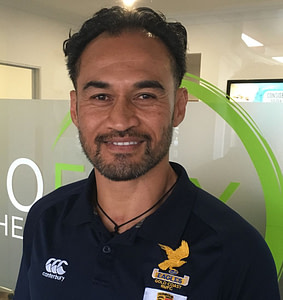 Joe Faalogo
Bachelor of Health (Physiotherapy) - 2000
Western Acupuncture
Sports and children physiotherapy

Joe is a highly accomplished Physiotherapist, with over 18 years' experience as a sports, children and musculoskeletal Physiotherapist. He is a leading expert in Western Acupuncture and has a loyal following of clients who have trusted him over the years.

Joe has operated at senior levels of elite rugby union, including as head coach of the Gold Coast Eagles Rugby Union for 10 years, Gold Coast Cyclones Director of Rugby, and Queensland Country Coach.

He is thorough and attentive, and his point of difference is that he empowers his clients to reach and sustain a state of physical well-being, so that they can do all those things that they love. Joe provides immediate relief for current pain symptoms but is particularly skilled at taking a step back and uncovering the root cause. This then allows him to provide his clients with a pathway to manage the underlying cause so that they can get back to a normal range of function.

Born in Samoa, and raised in Auckland, New Zealand, Joe cites his proudest personal achievement as being a father of his beautiful son (who he, admirably, home-schools!). Outside of work, Joe enjoys rugby, golf and raising his son. Joe is very much looking forward to continuing what he says is his "calling in life", by serving our local Southport and extended community.
Mike Clair
Hon BA Kin (Human Movement Science)
D. Phty (Doctor of Physiotherapy)
Dry Needling
APA Member

Mike holds a Doctor of Physiotherapy from Bond University, together with a Bachelor of Kinesiology (with honours) from Western University, Canada.

Mike has several years' experience as a Physiotherapist in the private sector, with a particular interest in sports rehabilitation and performance, supporting his clients to return to their optimal function. Mike has enjoyed working with sports clubs and athletes, ranging from weekend-warriors to working with the Australian Rugby Union U20 team. Mike uses a combination of dry needling and manual therapy to support his clients.

Mike also has a special interest in foot injuries and foot pain, having conducted research in the clinical area of foot pathologies. His area of focus is Plantar Fasciitis and the effect of strength interventions. His most recent publication was in the Journal of Physical Therapy and Sport: Strength Training for Plantar Fasciitis and the Intrinsic Foot Musculature: A Systematic Review. Mike has a novel way of treating foot pathologies and is awaiting publication for his most recent research.

Mike has a gentle and caring approach, and absolutely knows his stuff. Born in Canada, Mike ventured to Australia in 2013 to undertake his post-graduate studies. He fell in love with the beautiful Gold Coast lifestyle and Australian people. During his pastime, Mike enjoys golf and ice hockey, resistance training, hiking and running. He completed his first Marathon in 2017, which he cites as one of his proudest personal achievements.
Patrick Ivers
Bachelor of Exercise ScienceMaster of PhysiotherapyAustralian Physiotherapy Association member
Patrick graduated from Griffith University with a Master of Physiotherapy in 2019. He has also completed a Bachelor of Exercise Science during his undergraduate studies.
Patrick grew up in Lismore, NSW, where he played local soccer and cricket prior to his move to the Gold Coast in 2015. On top of Patrick's sporting commitments, he was also an avid runner, completing the Gold Coast Half Marathon in 2016. During this time, Patrick suffered minor injury setbacks which brought on his passion for injury prevention and management.
Patrick has gained practical experience in musculoskeletal, cardiorespiratory, neurological, orthopaedics, paediatrics and geriatric physiotherapy. He has a special interest in musculoskeletal conditions of the lower back, knee and ankle.  He has a passion for assessing and managing musculoskeletal conditions and is keen to further develop his skills and knowledge in this area. Patrick has previous experience working with local QAFL teams and more recently with the Gold Coast Suns AFLW team.
Patrick is committed to building professional relationships with his clients and working together with them to achieve their goals. Patrick uses a positive and holistic treatment approach to improve overall quality of life for his clients. He aims to educate his clients to provide them with the knowledge to combat their pain.
In his spare time, Patrick enjoys taking his dog to the beach, and finding the local coffee hotspots. He also enjoys exploring the outdoors and watching various sports including; NRL, AFL and soccer.
Enya Watts
Griffith University, Gold Coast Bachelor of Exercise Science, Masters of Physiotherapy Graduated from Bachelor of Exercise Science in 2017 and Masters of Physiotherapy Griffith Award for Academic Excellence 2015 – 2019 (Top 5% of students across university) McIlwain Griffith University Student Award.
Since graduating from her 2 year Masters of Physiotherapy studies she has been working in Womens Health Private Practice, the Tweed Hospital and with mobile home Physiotherapy. Enya has a special interest in the area of Women's Health, undergoing additional training in areas including pelvic floor rehabilitation, musculoskeletal obstetric physiotherapy and exercise during pregnancy.
She also completed additional training in Pilates and works as a Pilates instructor, finding Pilates a very powerful adjunct for injury prevention and maintaining long term physical health. She also has a key interest for assessing and diagnosing headaches and migraines and believes a holistic approach is paramount.
Enya is a caring, passionate and dedicated Physiotherapist stating that her passion for Physiotherapy stems from a love of physical well-being and fitness.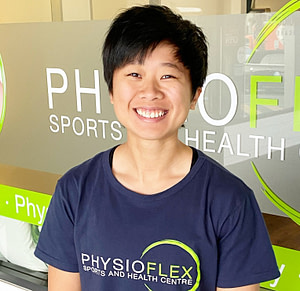 Wing Lam
Doctor of Physiotherapy at Bond University
Bachelor of Exercise and Health at the University of Hong Kong
MSc in Sports medicine and health science at the Chinese University of Hong Kong


Wings professional experience:
6 months of clinical placement in various fields including MSK, CR, Neuro and community.
Research assistant (specialized in stroke survivor)
Length of time: 2 years in research in Hong Kong specialising in stroke and neurological conditions.
Sports trainer in Hong Kong, various sports including hand ball, track and field and rugby, currently working with the Labrador Tigers AFL club as a sports trainer.
Wing is particularly interested in developing an interpersonal relationship with the client and progressing the client through their rehabilitation/program. She is also finds neurological conditions challenging but satisfying, enjoying drawing on deeper levels of knowledge to problem solve.
Wing was raised in Hong Kong, spent a few years in Sydney for high school before moving back to Hong Kong to finish her Bachelor and Master's study, then decided to come back to the Gold Coast to pursue her Doctor's degree in Physiotherapy. She combines a positive and friendly attitude whilst keeping busy outside of work playing field hockey and bouldering.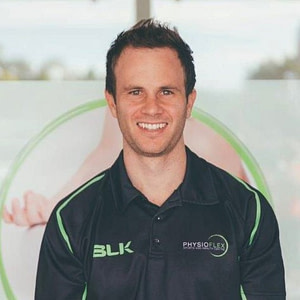 Ben Mack
BExSc (Bachelor of Exercise Science) - 2005
MPhys (Masters of Physiotherapy) - 2008
CROP - Cardiorespiratory and Orthopedic Specialty Courses RBH - 2009
PACCMAN - Post acute Clinical Care and management Specialty course RBH - 2010
APA member – 2010 - 2015
Dry Needling 2010

Ben holds a bachelors degree in Exercise Science and post graduate Masters degree In Physiotherapy from Griffith University. He has worked extensively within private practice treating many elite national athletes of varying sports as well as many local sporting teams, the Mater Childrens and Adults hospitals and has worked rurally in Queenslands St.George and Roma Hospitals.

He uses a variety of techniques to help clients achieve the best possible results. Ben undertook various courses in cardiorespiratory and orthopedics at the Royal Brisbane Hospital and uses these courses in combination with various other manual therapies, pilates and rehabilitation exercises to help manage and treat his patients.

A previous middle distance track and field national athlete, Ben is now interested in most sports and uses his elite sporting background experience and exercise science degree to aid physiotherapy assessments and treatments. He has had extensive experience with hamstring strains, ACL and MCL knee injuries, and ankle sprains. His background has enabled him to work with a significant number of middle to long distance runners and experience treating sporting injuries, patellofemoral pain, osgood schlatters, achilles tendonitis, and calf pain.

Ben also worked within a team clinic of orthopedic screening physiotherapists where he and his team were responsible for the management and rehabilitation of chronic disease and post-operative orthopaedic patients, including knee, hip and shoulder arthritis plus rotator cuff repairs, ACL Knee Reconstructions, hip and knee replacements, and various other musculoskeletal conditions.
Briana Eades
Diploma in Health Science - remedial therapies at the Australian College of Natural Medicine 2003
Sports Massage
Remedial Massage>
Pre & Post Natal
Fascia Release
Lymphatic Drainage
Aromatherapy Massage
Reflexology
Briana is passionate about health and well-being while helping others to be their best. She qualified with a Diploma in Health Science- Remedial therapies at the Australian College of Natural Medicine in 2003. Once Briana was qualified, she worked here on the Gold Coast for 2 years as a Remedial Therapist in private practice then took her career and her backpack abroad to Europe! The travelling experience and seeing the world allowed her freedom of learning and exploring to flourish. Working alongside Osteopaths, Chiropractors, Physiotherapists, Podiatrists and Sports Psychologists gave Briana an opportunity to gain the maximum from a team approach for optimal results for each individual. Briana is always excited to attend professional development courses and is happy to compliment the skills she brings to each bespoke treatment. Lymphatic drainage, aromatherapy, scar tissue management, pre and post natal massage, reflexology and fascia release are just to name a few.
When her travelling slowed down, Briana settled in Scotland and pursued her interest in Touch Football and represented, coached, captained and co-captained at many international tournaments over the 19 years she was living there. When pushing to the extremes, there is great empathy and understanding of sporting injuries and management.
Balancing her sporting interests and her career, Briana was proud of becoming Co-Director of her own multidisciplinary clinic which she grew for 7 years before returning to her homeland, Australia in April 2019.
Briana is excited to join the PhysioFlex group to compliment your physiotherapy goals and help you reach your highest potential for great health! Her friendly and professional approach will allow you to find the balance of remedial and relaxation rewards!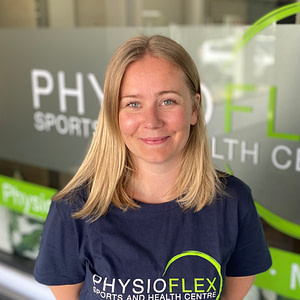 Ingerid Bauger
Reception & Administration
Having graduated with a law degree in Norway, Ingerid possesses the skills to continue to progress PhysioFlex Administration. She is also continuing her education within Australia and further her law studies whilst leading the PhysioFlex front desk.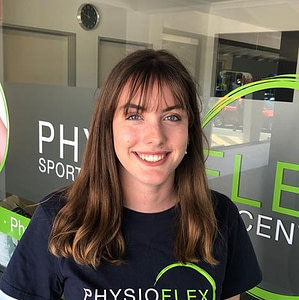 Isabelle Porter
Marketing & Administration
Isabelle graduated from Griffith University in 2020 with a Bachelor of Public Relations and Communications.
Jenny Lewis
Reception & Administration
Jenny has developed an extensive knowledge of allied health and administrative services after having joined the PhysioFlex team in 2010. She has extensive customer service experience and will be more than happy to assist you with bookings, prices or general information about our practice.